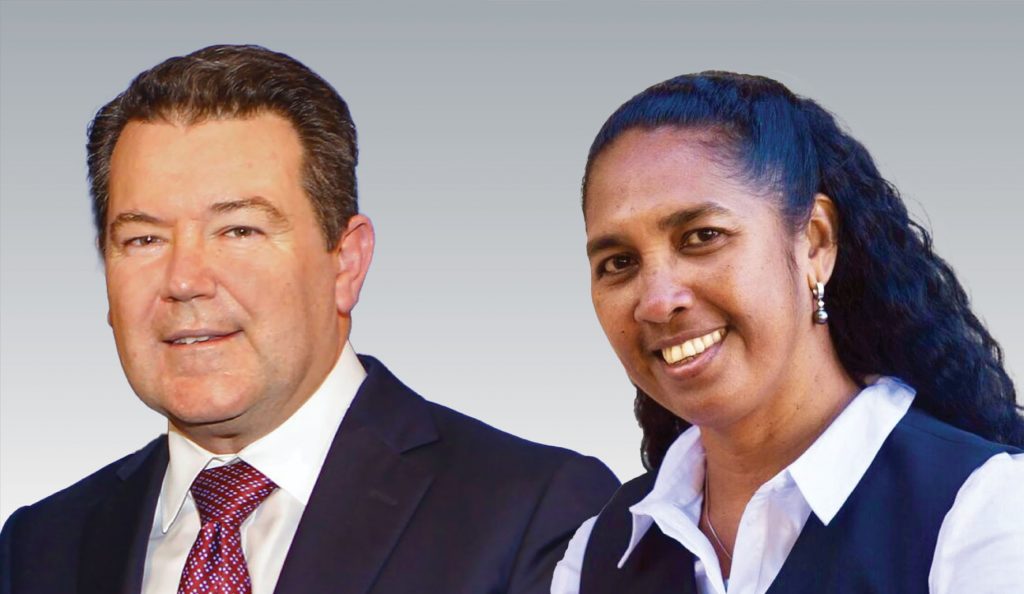 Dean Smith and Vonda Malone are the inaugural winners of the McKinnon Prize for Political Leadership, a new, non-partisan award recognising courageous, visionary and collaborative political leadership.
Senator Dean Smith was named the McKinnon Political Leader of the Year for tackling vital issues of public policy, overcoming adversity and achieving real change for the public good.
Senator Smith was commended for his bipartisan leadership on same sex marriage and his demonstration of courageous backbench leadership in the face of internal opposition and diversity of public opinion within Australian society.
"It's a great honour and privilege to be the inaugural award winner," Senator Smith said.
"It's my hope the award will encourage others to have the confidence of their convictions and to recognise the opportunities that can be realised by looking beyond traditional partisan lines.
"If we are to rebuild the confidence of Australians in their democratic institutions, parliamentarians must be prepared to work issues through on their merits, and never lose sight of the fundamental values of decency and fairness that have always been our foundation."
Councillor Vonda Malone was named the McKinnon Emerging Political Leader of the Year, for politicians with less than five years in office, for her outstanding leadership as Mayor of Torres Shire Council.
Cr Malone was recognised for her efforts to bring together her community, shedding light on pressing issues such as unemployment, housing shortages, waste management, community engagement, health and wellbeing. She convened numerous dialogues and networking events across all levels of government.
"I am truly honoured to receive such a distinguished award," Cr Malone said.
"Attaining the McKinnon Emerging Political Leader of the Year, and gaining national recognition of my advocacy efforts for improved services in the Torres Strait, is a huge step forward in my leadership journey.
"This recognition has reaffirmed that my representations for the Torres Strait are having an impact towards achieving much needed outcomes. I am grateful and thank the panel, the anonymous person who put forward my nomination and not least my family, friends and colleagues and community for their continued support and confidence in me."
University of Melbourne Vice-Chancellor Glyn Davis chaired the inaugural McKinnon Prize for Political Leadership selection panel, which also included former Prime Ministers Julia Gillard and John Howard as well as distinguished business, political, education and sporting leaders.
Professor Davis said the prize celebrated political leaders at all levels of government and will spark a national conversation about the role of politicians and public aspirations for leadership in Australia.
"These were difficult choices, given a strong field of nominations from across Australia, but Dean Smith and Vonda Malone are outstanding contemporary leaders who make a difference through their political roles," Professor Davis said.
Ms Gillard said the McKinnon Prize recognised quality political leadership and would generate community understanding of the dilemmas of politics.
"Dean won because of the bravery he showed in campaigning on an issue that was divisive within his own political party. He also showed personal fortitude in the way he advocated for a yes vote around Australia," Ms Gillard said.
"Vonda has been recognised because she decided to use her talents for local leadership. She had many other options but decided to be a community grassroots leader."
Mr Howard said he was optimistic about the future of political leadership in Australia.
"A good leader is a combination of somebody who believes in the right things and has got the capacity to carry the public with him or her. I think the Susan McKinnon Foundation should be congratulated in establishing such a prize," Mr Howard said.
"The winners were elected by a majority decision and the panel made a judgement in relation to the particular endeavours that most closely mirrored the principles of the Prize."
In addition to the honour of being selected as an exemplar of outstanding political leadership by a distinguished group of Australians, both winners will deliver a keynote speech at the McKinnon Prize in Political Leadership Oration on 15 March, where they will be awarded a trophy of recognition. The McKinnon Emerging Political Leader will also receive a $20,000 financial prize for professional development.
The McKinnon Prize in Political Leadership is a collaboration between the Susan McKinnon Foundation and the University of Melbourne.