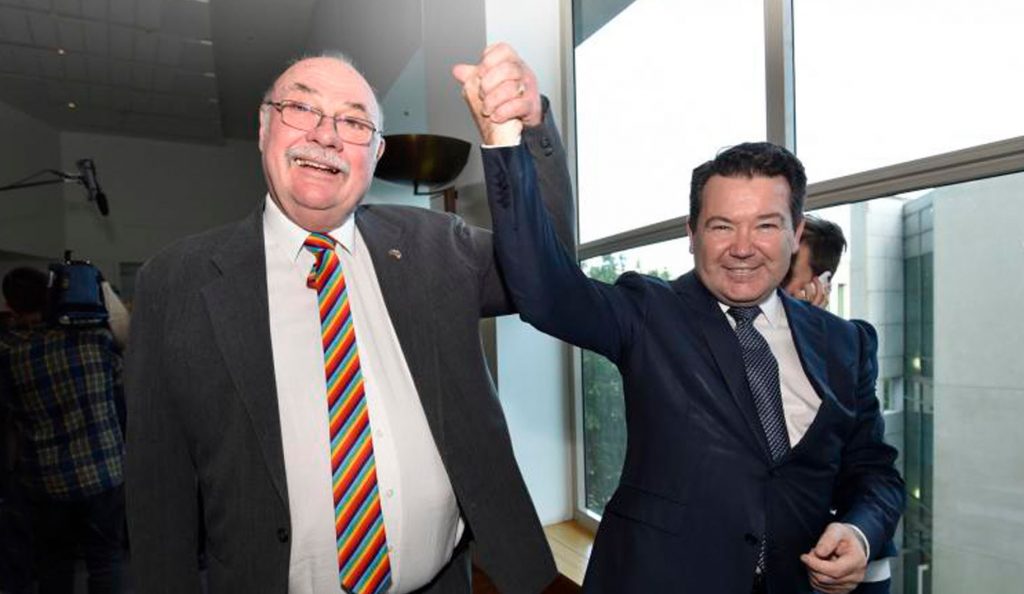 Dean Smith and Vonda Malone are the inaugural winners of the McKinnon Prize for Political Leadership, a new, non-partisan award recognising courageous, visionary and collaborative political leadership.
At first glance, Dean Smith may be an unlikely leader, an unusual hero. He's quietly spoken, pauses before he answers a question, and values such old-fashioned notions as courtesy.
"I'm easily dismissed and regularly underestimated, and I get that," he says.
Yet is it this 48-year-old Liberal Senator from Western Australia who has won the inaugural McKinnon Prize for Political Leadership, established by the University of Melbourne and the Susan McKinnon Foundation to recognise those in public office who demonstrate courageous leadership.
Vonda Malone, the Mayor of Torres Shire Council, was named the McKinnon Emerging Political Leader of the Year.
The winners were chosen by a panel chaired by University Vice-Chancellor Glyn Davis and including former Prime Ministers Julia Gillard and John Howard, as well as leading figures in business, public service, media and sport.
Senator Smith, the first openly gay Liberal MP in federal parliament, was the author of the marriage equality bill that passed Parliament in December. More than that, he opened the debate in the Senate on the bill, which he had drafted months earlier with limited support from the conservative side of politics at the time.
There had been more than 20 failed attempts to legalise same-sex marriage in Australia. Senator Smith's bill passed after a controversial national survey on the issue backed same-sex marriage, and because supporters from every political party trusted him.
Former attorney-general George Brandis paid tribute to Senator Smith, saying he knew "the burdens of stress, of loneliness and of hurt he endured, to make Australia a better place for countless others."
Ms Gillard said Senator Smith had won the McKinnon award because of "the bravery he showed in campaigning on an issue that was divisive within his own political party".
Senator Smith says he is honoured to win the award, but was so focused at the time on the detailed tasks of getting a moderate same-sex marriage bill drafted and negotiating majority support that he didn't think a lot about the bigger picture. He has had time to reflect over summer.
"There is always the risk of failure, but you can't allow the risk or fear of failure to make you immobile," he says of how he approached the work of legalising same-sex marriage,'' Senator Smith says.
"I always thought of it as me doing my job; I didn't think of it as exceptional in any way. And it wasn't a Napoleonic-like leadership style, it was much more collegiate I think."
The McKinnon Prize is a collaboration between the University and the Susan McKinnon Foundation, a philanthropic organisation set up by Melbourne businessman Grant Rule and his wife, Sophie Oh, in 2015. The award was launched in Canberra in November in 2017 with the aim of encouraging those who aspire to political office to reflect on leadership and on the type of leader they want to be.
Senator Smith stresses that his legislative achievement wasn't his alone – he worked hard with supportive government MPs, Labor's Penny Wong and the Greens' Janet Rice. He's not someone who insults people, or tries to shame them to his point of view. Even with those with whom he disagrees, he does so respectfully. It is a key to his idea of what true leadership is.
"All I know is that I feel better and I feel satisfied if I prosecuted my arguments in a courteous and gracious way irrespective (of whether) they have won or lost," he says. "I don't think winning a battle by being discourteous is success, and I don't believe that the ends justify the means."
The leaders he most admires have one thing in common: they failed, again and again, before they prevailed. They persisted and they believed in themselves. British wartime leader Winston Churchill may be an embodiment of leadership now, but it wasn't always so.
"People remember Churchill as being successful. No one remembers him being being outsider, no one remembers him being unpopular, no one remembers him being called a warmonger," Senator Smith says.
John Howard was prime minister for 11 years and won four elections, but was earlier dumped as Liberal leader as supposedly unelectable. Senator Smith keeps as a motivator a 1988 Bulletin magazine cover which declared Howard, then opposition leader, "Mr 18%" – that was the percentage of people polled who thought he would be a better prime minister than Bob Hawke, who polled 69 per cent.
"For me, it's the sheer perseverance and self-belief of John Howard," says Senator Smith, "but not in an arrogant way, no one could call Mr Howard arrogant."
Another person whom Senator Smith nominates as a leader he admires is the Queen's father, King George VI. He never expected to be king – his older brother Edward abdicated in 1936 to marry an American divorcee. George was frail and he stuttered (as portrayed in the movie, The King's Speech).
"He becomes King. Britain goes to war and he becomes a symbol of national unity. The war is won, and then he loses his life shortly after." One of Senator Smith's cherished possessions is a signed portrait of George VI.
Vonda Malone has no such famous models of leadership. The first female mayor of the Torres Shire, Councillor Malone was recognised by the McKinnon panel for her work tackling critical community issues such as housing shortages, health care, and infrastructure.
The shire is 75 per cent Indigenous and includes Thursday Island, Horn Island and Prince of Wales Island.
Councillor Malone, 49, was born on Thursday Island and married her high school sweetheart, Bernard. She describes her childhood home as in many ways idyllic, but remote, with little technology to connect her to the outside world.
Family ties were everything. She says her mother and her grandmother were her strongest leadership influences, urging her to challenge herself and to give back to her community.
And she did. She worked for more than 20 years with the Australian government, including the Department of Foreign Affairs. She was the first Torres Strait Islander woman to complete the Indigenous fellowship program at the United Nations.
Before she stood successfully for mayor in 2016, she was the executive Director of Primary Health Care with the Torres and Cape Hospital and Health Services working across the region to improve health care.
Being named the McKinnon emerging leader is overwhelming, she says. "I would never have imagined that I would get such national recognition for doing something that I am passionate about, making a difference in my communities. It has given me confidence that what I'm doing has been appreciated."
She adds: "Leadership for me is ensuring that you've got something to offer the community, something that we can provide. I look at it as a profession. I don't look at it as just getting elected; that's the easy part. It's what you can deliver."
Her task is daunting. As Mayor, she represents about 4000 people who live in a remote part of the country and experience significant disadvantage.
Her aims are practical. She is on the board of Community Enterprise Queensland, which runs grocery stores in Indigenous communities. Four years ago, she says, the food in her shire was hideously expensive and of poor quality.
"We can buy kale now in our shops here, because I eat kale," she laughs. "There's a healthier range of bread, before they were only selling white bread."
Councillor Malone is focused on improving waste management, putting in bike paths to encourage exercise, providing opportunities for people to buy and own their own homes.
And she's encouraging more women to nominate for leadership positions.
"All the decision-making bodies here were male-dominated," she says. For women, "there was a bit of lack of confidence and not being taken seriously. There were underlying things that stopped women putting themselves forward."
Councillor Malone, who doesn't belong to a political party, thinks many Australians have lost faith in politics because "there's too much internal infighting between the political leaders."
Senator Smith agrees: "I do think the community is tiring of partisan politics. I see it in people's eyes. I really do think that not everything has to be disputed."
He says some people have said to him that his same-sex marriage triumph will be the most important thing he achieves as a politician. He aims to prove them wrong.
"I've learned all these new skills. I have got better clarity about the capacity of people around me, their strength of courage, their strength of commitment, how far their word can be relied upon," he says.
"I am conscience that I have a voice now that is stronger and clearer than 12 months ago. Using that is important to me."
Professor Davis said there was a strong field of nominations from across Australia, "but Dean Smith and Vonda Malone are outstanding contemporary leaders who make a difference through their political roles". The prize will be awarded annually.