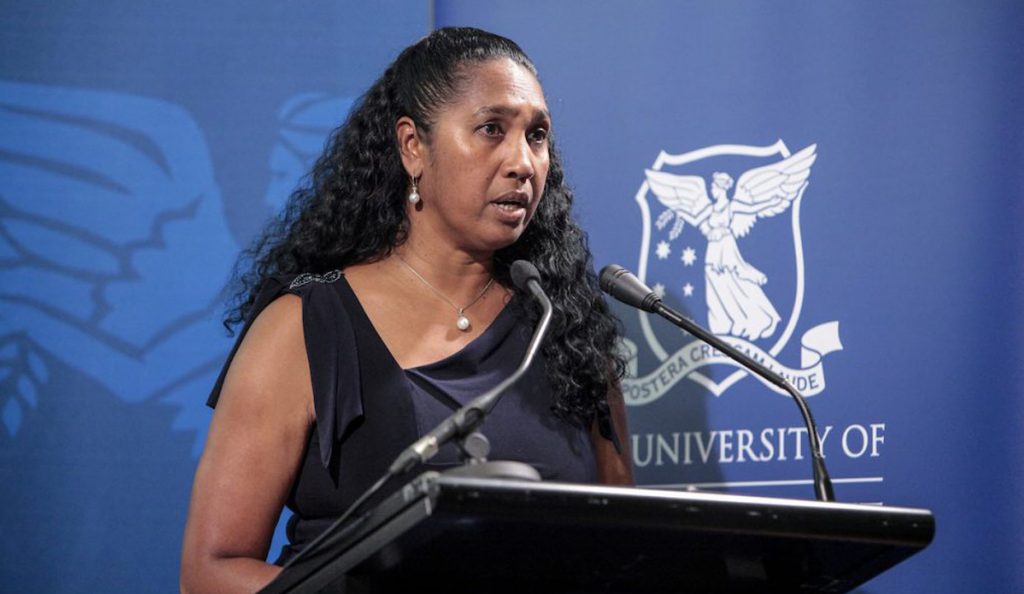 Introduction
My acknowledgements to the Kulin Nation the traditional owners of this land in which we are privileged to gather and meet.
I pay due respect to their elders past, present and those to follow.
Thank you for making me welcome, it is a great honour to be here and address you this evening as the inaugural recipient of the McKinnon Prize for Emerging Political Leader of the Year.
I stand before you as a proud female Torres Strait Islander, an island girl from the remote isolated islands of the Torres Strait. I am humbled in receiving such accolades and recognition, at a national level, so early in my political career.
I would like to express my sincere thanks to the McKinnon Prize for Political Leadership selection panel and acknowledge our two former Prime Ministers the Hon Julia Gillard and the Hon John Howard along with their fellow distinguished panel representatives, the University of Melbourne Vice Chancellor Glyn Davis and the Melbourne School of Government.
In reaching this milestone, I can't lose sight of those that supported and believed in me, my family, friends and colleagues (a number whom are here tonight).
I also take this moment to dedicate this prize to my mum Mary Isabella (Bella) Moar and my grandma Saimo Gela, two strong women that encouraged, moulded and guided me. They allowed me the freedom to develop into the person I have become without imposing pre-conceived boundaries or restrictions. To echo this year's NAIDOC theme, "because of them I can" and I continue to draw strength from their legacy in representing the people of my region.
This national recognition has not only brought me out of the shadows, it has allowed all Torres Strait women to shine and bring to the fore the skills they inherently possess for the betterment of their communities.
My Story
Growing up on Thursday Island and the remote island of Erub in the Eastern Cluster of the Torres Strait, I was far removed from mainstream Australian society. Starved of educational opportunity and a system that encouraged mediocrity, I committed early on to finish high school and decided that I was going to do things differently.
I adopted a direction of embracing out of the norm opportunities, including working overseas as an Australian Diplomat with the Department of Foreign Affairs and Trade and then with United Nations Office of the Human Rights Commission, both of which expedited my experience in the wider world, as did the arrival of my daughter, Natasha early in my career.
Opportunities for positive growth and professionalism continued within federal and state government sectors. Being naturally ambitious I was unwilling to accept the "status quo" that disadvantaged those around me and my communities. I often encountered resistance, lateral violence and ongoing suppression stemming from male counterparts from both within my community and from "the saviours" from elsewhere. Only too often my tireless work and being a change maker over the years was hardly recognised or acknowledged. This provided even greater motivation to aim higher and drive improved standards in health and wellbeing for my people based on good governance and leadership.
Breaking that cycle and the glass ceilings at various stages of my career not only empowered me, but provided encouragement and an example to Island (Ilan) women who were too afraid to step forward for fear of losing their positions, employment, alienating their family and pushing the boundaries of Ilan custom and pasin. I was their voice. This was not without personal sacrifice and at times was a lonely path, especially in communities where equity for women was not seen as a priority. These trials gave me the foundation and strength to achieve the greater role of becoming the first female Mayor for the Torres Shire Council.
Torres Strait
Torres Strait Islanders have for such a long time tried to elevate our existence and our issues to successive Australian Governments (state and federal) and the wider Australian public but this was often dampened by the noise of mainland Indigenous affairs at large. Most Australians do not realise that Cape York is only the most northerly part of the mainland and there exists vibrant, distinctive Indigenous communities inhabiting the area from the Cape to the Papua New Guinea border. Politicians and policy makers are more comfortable asserting sweeping national positions rather than engaging with difference and distinctiveness.
It is time that we are taken seriously, gaining recognition of our unique culture as First Nation's peoples, our aspirations, our challenges and our considerable contributions to protecting Australia.
The Torres Strait is the only part of Australia that backs onto an international border with Papua New Guinea.
Challenges
The Torres Shire encompasses the Thursday Island (Waibene) group of islands that lie immediately off the tip of Cape York in far north Australia, the doorstep to the Torres Strait region, an area with over 100 islands.
The Torres Shire was established in 1903 and is a small mainstream council. It is a multicultural community with a population in excess of 3500, 75% of whom are Torres Strait and Aboriginal people.
Having being classified as a mainstream council provides a complexity as it sits within an Indigenous island region. As a council we do not receive much needed additional assistance from governments compared to our neighbouring sister Indigenous Councils. Our Indigenous people are not counted and not in receipt of programs that target remote Indigenous communities when addressing close the gap targets.
Thursday Island is the administrative hub of the whole Torres Strait region accommodating up to 37 state and federal government bodies that deliver fly-in-fly-out (FIFO) services to the region. The ever-growing complexity of government presence here presents our residents with a number of social impediments including:
Lack of affordable housing and an overcrowding crisis as a result of housing stock predominately taken by government departments with minimal funding restraints.
Water security and waste management issues due to the influx of government growth.
Economic development, local small indigenous business expansion and innovation stifled by government red-tape.
The double bind of governments being exempt from general rates while continuing to expect essential services – an enormous burden on the sustainability of council with a small rates base.
High cost of living impacted by the monopoly of one freight company with no freight subsidy offered by government although there has been numerous deputations to all governments for up to 20 years. This limits consumer choice with everyday essentials being costly and the subsequent detrimental link to health and wellbeing outcomes.
No structured plan to build community capability and succession planning to reduced FIFO arrangements and enable employment and appropriate localised service delivery.
These matters and more were echoed by Indigenous Councils and put forward within the submission to the Queensland Productivity Commission Inquiry into Services in Indigenous Communities in November 2017.
I encourage governments to take more localised genuine approaches to addressing needs of communities so that we fast track and fulfil the total spectrum of Close the Gap targets. Work with us, rather than to us or from a distance. We know our communities and have practical solutions that can deliver greater outcomes and benefits. History has shown that current models of service are inefficient and rife with duplication. Services must enhance and compliment what's on the ground and not suffocate and widen the gap. It is encouraging to hear these sentiments being echoed by Martin Parkinson, Secretary of Prime Minister and Cabinet.
The Torres Strait is naturally endowed with a beautiful pristine environment. Recent severe weather events experienced in the region once again highlight how vulnerable and susceptible our island communities are to the ever present issue of global climate change. A local problem, yet a global issue that we share with our neighbouring Pacific Island countries. We have to have the tough conversations within our communities and put in place measures to build resilience in our communities, with limited resources. However this is not enough and we need the help of the Australian Government (both state and federal) and the greater Australian public to support us and elevate this issue internationally.
Climate change coupled with a very active international border places greater sovereign risk to Australia from our neighbouring countries of Papua New Guinea and Irian Jaya, Indonesia.
Torres Strait Island leaders are deeply engaged and active with monitoring and managing our international border. Adding another layer of complexity to local leadership is recognising and understanding the dynamics of international movement under the Torres Strait Treaty, including:
International relations and community safety.
Risk to national security.
Ongoing cross border public health risks.
Ongoing risk to Australia's agriculture industry through potential pest and weeds infestation.
It is a live border; there are no big stretches of water to buffer movement but merely a four kilometre dinghy ride to our closest community of Saibai Island.
Receiving the McKinnon Prize for Emerging Political Leader of the Year provides me with a great platform to continue to:
Showcase the contributions Indigenous women make to society and their communities.
Uphold the special and unique culture that Torres Strait Islanders are proud of.
Advocate and highlight what Torres Strait Islanders are in need of to improve standards of living to levels comparable to the rest of Australia.
As a minority group we need stronger voices at the national and international level to embed our existence and to expose the important contribution we make to Australia.
Thank you for sharing this special moment with me. I hope that the recognition you have given me will encourage both women and Indigenous representatives from remote communities to take that next step in coming forward to proudly represent their communities in the political arena.
Thank you for giving me your due attention.
Good evening.