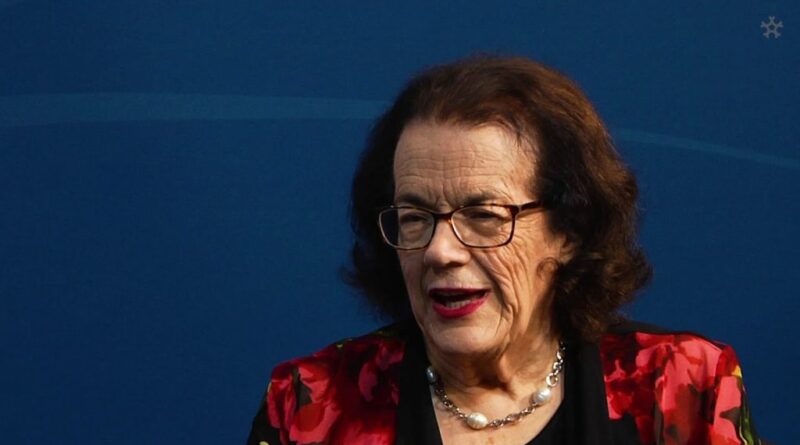 "Leadership" is something the community yearns for, and individuals aspire to. Its promise sometimes turns out a mirage; its importance occasionally is clear only in retrospect. The past several years has seen the parameters of our political leadership rearranged; leaders emerge to carry forward issues of major concern, and ordinary people fill vacuums with inspired "bottom up" leadership.
The year 2022 was a very mixed one for the story of leadership in Australia.
By its start, the pandemic had seen the public's attitude to political leaders change dramatically, and then change again.
For decades, public trust in political institutions and political leaders had been in decline. But in a time of great uncertainty, people turned to the known. Polling showed trust being restored.
Within the federation, the pandemic had brought the leadership of the various state and territory leaders to the fore; it gave them more responsibility and constant publicity, and they flexed their muscles. Premiers and chief ministers who faced elections during 2020-21 retained office. Some leaders became heroes.
In Western Australia, Premier Mark McGowan had a massive victory. McGowan epitomises a leader who does things his way, in a state that prefers to do things its way. In Victoria, while there was no election until 2022, Daniel Andrews had a near-cult following among many.
At a national level, Scott Morrison restored his ratings during the first part of the pandemic, after mishandling the bushfire emergency. But this resurgence would soon be lost.
In the earlier days of COVID-19, experts, notably in the health field, had become an elevated new class of leaders, with politicians relying on them, and often deferring to them. Health officials stood beside the politicians at news conferences, and their names became familiar – Brendan Murphy (Commonwealth medical officer, later head of the federal health department) at the national level; Brett Sutton, Victoria's chief health officer, and his counterparts in NSW, Queensland, and elsewhere.
By 2022, the wheel had turned. Trust in political leaders had eroded. The pandemic no longer protected governments. Although Andrews had a strong victory, the South Australian and federal governments were defeated.
In 2022, the experts (who had differed among themselves on pandemic issues, reminding people that "expertise" can be a complicated matter) were back "on tap" not "on top". They had been returned to their boxes by the politicians, who had reclaimed their agency as things got slowly back to normal and COVID came to be treated less as a crisis and more as a nasty illness, with the community feeling it was time to move on.
The year saw not only the defeat of Morrison but his comprehensive fall from grace when (post-election) it was revealed that he had had himself secretly installed into multiple ministries). Morrison was censured by the House of Representatives – the first time this has happened to any former PM. The saga put front and centre the issues of transparency and trust, with former high court judge Virginia Bell, in a report commissioned by the Albanese government, labelling the affair "corrosive of trust in government".
The fall of Morrison highlighted, negatively, what people want from leaders. Being present in the moment and possessing the ability to show empathy (he failed on these counts in the bushfires). Competence (the vaccine rollout faltered badly at the start and later there were not enough rapid antigen tests). Openness and a regard for propriety and proper process (his style was one of control and secrecy).
Morrison's fate also showed how quickly things can change for a leader. If he had gone under the proverbial bus in the latter part of 2020 and nothing more had emerged, he'd have probably received a creditable rating, despite his poor performance in the fires. By late 2022, he was being talked about by some as the worst PM in modern federal history.
NSW premier Gladys Berejiklian's fate was another cautionary tale about the fragility of a leader's reputation. In 2021, her pandemic performance had her hailed in a headline as "the woman who saved Australia" (NSW had so far remained relatively open). Before the year's end, embroiled in a scandal involving her former boyfriend, she quit parliament.
The May 2022 federal election saw a special and significant story of leadership – that of "community candidates". The batch of so-called "teal" candidates, as well as other independents, reflected a movement that had, most recently, dated from the election of independent Cathy McGowan in Indi in 2013.
Where once the major parties dominated the vote, now a substantial proportion of voters have deserted the main political blocs. Some vote for minor parties but others are in search of localised, less partisan leadership – bespoke candidates.
There had been independents before who pitched as the voice of their community (e.g. Peter Andren, Calare 1996-2007; Ted Mack, North Sydney 1990-96), but this time it became a distinct movement. The teals ran on common issues (climate, integrity, women's equality). They received substantial donations from a common source, and McGowan helped them network.
The various "Voices of" particular electorates reflected not just anger at the government and concern about specific issues, but voters' desire for a better way of doing politics. The successful "teals" weren't out of the "former staffer" category – the incubator these days for many major party candidates.
A sub-theme in this story is that voters, especially women, are wanting more females in leadership. While this was particularly evident in the popularity of the teals – the half dozen elected to the House of Representatives were all women – the Liberal party, as it tries to rebuild from defeat, is acknowledging the need to advance more female candidates.
Although not elected as "teals" but sharing all or a large part of their agenda, Zali Steggall, who defeated Tony Abbott in 2019, and Helen Haines, who succeeded McGowan at the same election, showed leadership in the 2019-22 parliament. Both these independents produced private member's bills, Steggall on climate change and Haines on an integrity body, that influenced the debate on those issues.
One successful independent in 2022 was in a category of her own. Dai Le was something of a giant slayer, defeating Labor candidate Kristina Keneally in the Sydney ALP seat of Fowler. A leader from a Vietnamese background she, like other independents (teal and non-teal), appealed to voters as someone speaking for, and to, her local community. This distinguished her from the "outsider" Keneally, who'd been parachuted into the seat. Dai Le also reflected the push for a more diverse parliament.
The community candidates are not a party, despite what their detractors tried to claim. But they are a movement, one whose longer-term future is yet to play out. And in passing, we should note the leadership role of Simon Holmes à Court, founder of Climate 200, who mobilised a good deal of the money that enabled teal candidates to compete on a more financially-level playing field.
In years gone by, outspoken MPs within the major parties often made a mark as leaders in their own right, especially well-known moderates in the Liberal party. These voices nowadays are fewer, and quieter. A contemporary exception, however, has been Tasmanian federal Liberal Bridget Archer – in the last parliament she crossed the floor to try to advance a national integrity body, and more recently she voted against her party on the government motion to censure Morrison over his multi-ministries.
Another category of leaders prominent in 2022 was that of the advocates. These are people who strongly pitch for causes, often themselves being representative of that particular cause.
Grace Tame, a victim of child sexual abuse who became a voice for other survivors, and then, more generally, for women, jumped into the national spotlight when awarded Australian of the Year in 2021. Later Tame was a sharp critic of Morrison – her advocacy status became a political platform.
In 2022 another advocate, Dylan Alcott, who had come to prominence as a disabled athlete and mobilised his fame to speak on behalf of others with a disability, was named the 2022 Australian of the Year.
With the referendum to put an indigenous Voice into the constitution set for 2023, Indigenous figures Tom Calma, Marcia Langton, Megan Davis, and Noel Pearson, among others are stepping up their existing leadership roles.
We often default to talking about politics when we think of "leadership". But of course that's too narrow a view.
In 2022 this was seen when large parts of eastern Australia were flooded. There were extraordinary stories of communities and individuals mobilising for rescues, mutual help, and reconstruction.
This local leadership on occasion was ahead of the official responses or supplemented them. The people who came forward often took things into their own hands, at risk to themselves.
Once a crisis is over such local leadership can often be forgotten. For the people and communities it assists however, it is every bit as important, or more so, than what's done by those with higher, or more formal "leadership" positions.
A challenge for local communities is to find ways of encouraging and developing a range of leadership skills at the grass roots level – producing leaders who are fit for many and varied purposes, from coping with natural disasters to giving an example to the next generation.
The experience of the last few years shows leadership comes in many guises. It can be created, enhanced, or torn down by the circumstances of the moment, as well by the qualities and actions of the individuals themselves.