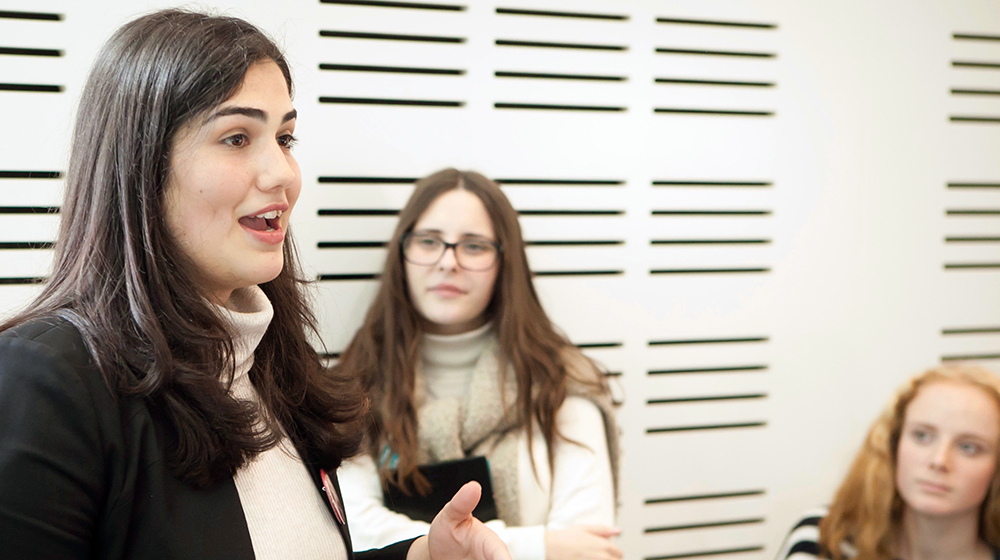 A few years ago, as a Queen's Young Leader, I was invited to 10 Downing Street to meet then-prime minister Teresa May.
Before the garden reception, I was escorted into the historic cabinet room and invited to sit in the Prime Minister's chair at the coffin shaped cabinet table. As I sat in a seat I probably shouldn't have been sitting in, I felt the world stand still. My thoughts raced and tumbled over one another. I started to think of all the men who sat in this very room, and how their decisions directly shaped the priorities, policies, direction, and colonial legacy enshrined within contemporary Australian democratic institutions.
And before my symbolic moment occupying the literal seat of power at the heart of the British government was up, I was struck by one thought: what could I do if I occupied a seat at the table?
What is my vision for Australia?
I can now see the extent that inspired me in my mission to create a new generation of diverse visionary leaders and democratic changemakers across the Asia-Pacific.
I want to see our leaders reflect not only the very best of us, but to cultivate a pipeline of visionary leaders who have the courage to stand up for what's right, even when it's hard. The "yes we can" mantra of former president Barack Obama became a rallying cry for all Americans to stand up for what is right, to unite around inspired mass participation and grassroots movements. But most importantly, it uplifted the hopes and galvanised the self-determination of communities often excluded from positions of power, to take an active role in shaping the next chapter in the American experience. Where's our "yes we can" moment?
That's what Australia needs. More of "yes we can" and less of "no we can't, it's not my job" or short-term decision making.
I hope to see an abundance of leaders who are there to do more than just cultivate their five minutes of fame or use Parliament as a steppingstone to a lucrative private advisor career. Leaders who are in it for the long term- for community – for those who are with us now, but more importantly, for those to come, that is exactly what we need.
The last few years have seen multiple crises come to a head. It has been a particularly strenuous time for all Australians, especially young people. After speaking with thousands of young people over the last year, a common thread – or wish – that I kept hearing is that they all want to feel connected to something bigger than themselves. Young people are yearning for visionary leaders, especially as we fast approach a climate catastrophe. They want to end the decade of bandaid policies; instead, they want our leaders to turn their attention to the future.
Recently, I started a new role in an Indigenous consultancy group. Under the guidance of some incredible First Nations leaders, I have begun a lifelong personal journey towards cultural confidence. One of the many teachings that I have begun to apply to my advocacy work in shaping the next generation of political leaders, is the idea that visionary leaders do not just solve
problems of the here and now, or even the next 100 years. Instead, a political leader with true
long-term vision is one that steps back and creates a safe and courageous decision-making space for everyone to share, along with policy platforms and initiatives to help safeguard Australia for thousands
of years.
Australia's leaders are only at the start of this journey. In the meantime, the McKinnon Prize in Political Leadership is actively working towards finding leaders who demonstrate this vision and commitment to effective policy for the long term.
And they're calling on every Australian to nominate political leaders who they believe are worthy of recognition and who can inspire anew generation of visionary leaders. So now is your chance to have a say.
Who will you choose? Who represents your vision for Australia and the vision of those to come?
Caitlin Figueiredo is the founder and CEO of Jasiri Australia. She was a member of the McKinnon Prize Selection Panel in 2021. Nominations for the McKinnon Prize 2022 are now open and can be submitted via the website mckinnonprize.org.au.