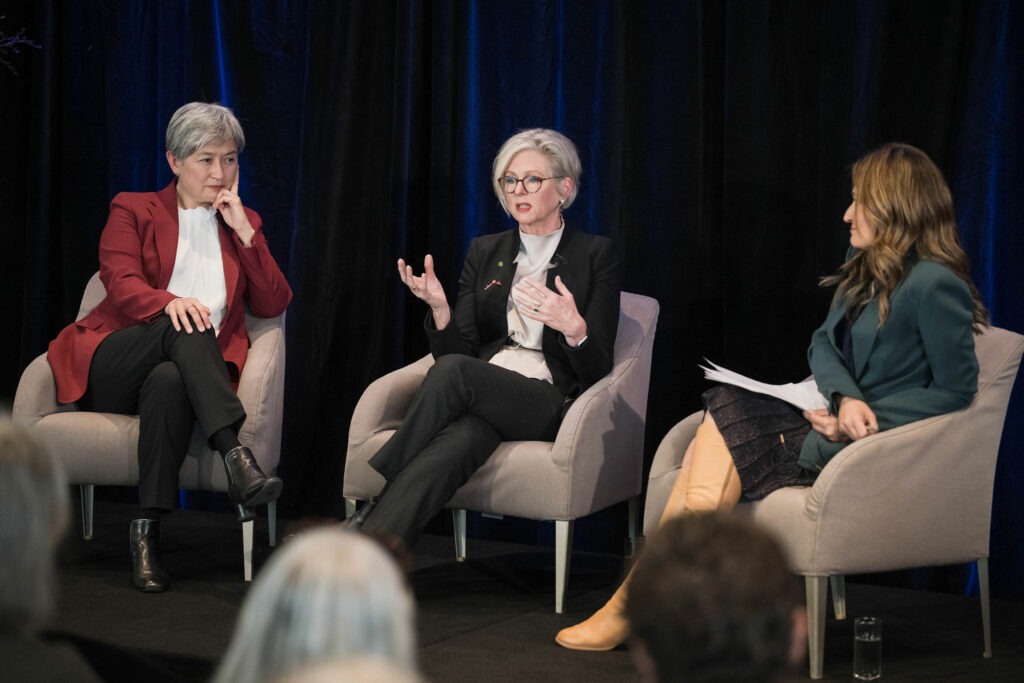 What does effective leadership look like in an increasingly polarised world? What does it mean to be a citizen of Australia in 2023? How can civic leaders — and members of our communities — help restore trust in institutions so we can build a more inclusive and tolerant society?
These questions — and many others — were canvassed recently in wide-ranging speeches and stimulating conversation between Minister for Foreign Affairs and Senator for South Australia Penny Wong and Independent Federal Member for Indi Dr Helen Haines, at an event hosted by the McKinnon Prize in Political Leadership and expertly moderated by senior ABC journalist Patricia Karvelas. 
As Australians, we're often quick to point out what we don't like about our political leaders. Brickbats come easier than bouquets — sometimes for good reason. However, while it's crucial for democracy that politicians are held to account, it's also vital to identify and talk about the admirable qualities and impact of positive leadership. We need to know what works, so we can promote more effective leadership and work towards better outcomes for our polity. This is what the McKinnon Prize seeks to do and it was the focus of our event in Melbourne, which provided a forum for two exceptional leaders to talk about their approach to leadership and the importance of listening, respect and collaboration.
Senator Wong and Dr Haines didn't disappoint. In fact it's hard to imagine a pair of speakers better suited to providing the calibre of insight and understanding needed to counterbalance the cynicism that increasingly characterises politics in Australia and globally. 
Senator Wong is the only person to have received the McKinnon Prize for Political Leader of the Year twice, in 2018 and 2022. Her most recent award recognised her swift progress to reset Australia's foreign policy agenda and restore important bilateral relationships in a difficult geopolitical environment. She is known for her ability to build consensus and a willingness to work collaboratively to find solutions to complex challenges. 
In a wide-ranging speech, Senator Wong discussed Australian foreign policy since WWII, the threat that conflicts in the Middle East and Ukraine and challenges throughout the Asia Pacific region pose to the rules-based international order and regional stability, the historical importance of bipartisanship in Australian indigenous relations, and the disparities that First Nations peoples continue to experience today. She emphasised the importance of responsive leadership not only in creating a more inclusive society here in Australia but also in enabling our nation to step up and play its part in global affairs to build a safer and more secure world. Effective leadership, she argued, is about humility and listening. It calls on us to accept that no one person has all the answers, but everyone of us has something to contribute: "Each of us is a leader … We must each decide to play our part in bringing our country together. We must each decide to listen. We must each decide to meet this moment, recognise our past, and transform our future."
Senator Wong also took aim at one of the most insidious problems facing our democracy today: the rise of misinformation and the role it plays in encouraging conspiracies and extremism. As she said, "our democracy relies on a foundation of agreed facts. Political leaders and organisations that deal in fear and not in fact are eroding our democracy." These are strong words but they are typical of the candour that attendees of McKinnon Prize events can expect and they exemplify the forthright discussion we aim to promote.
The contribution from Dr Haines was similarly candid and powerful. As the 2022 McKinnon Emerging Leader of the Year, Dr Haines was recognised for her commitment to integrity in politics, her dedication to serving her electorate and her considerable impact as a "community-driven" leader on the national stage. She has earned a reputation for having strong values, a tireless work ethic and a firm commitment to relentlessly advancing public policy reforms, including the introduction of a national anti-corruption or integrity commission. 
Like Senator Wong, Dr Haines spoke on the importance of listening and respect in leadership. Her account of travelling to small towns and villages, country halls and local communities to engage directly with her constituents demonstrates her commitment to  people-focused leadership. As she argued, "In a society where some voices carry significant power and others face severe marginalisation, leaders must create opportunities to have conversations, to seek out those voices and create forums for views and ideas to be heard."
It was this ethos that led Dr Haines to formulate the "Beechworth Principles", a guide developed with her constituents to help design a robust federal integrity commission. The judges who awarded her the 2022 McKinnon Prize described these principles as an "incredible example of grassroots politics, a consensus-building tool that directly connected her local electorate to her national policy work." This style of leadership has helped pave the way for a new approach to doing politics that puts communities first and ensures that all Australians have the opportunity to participate meaningfully in the national conversation. "The community," as Dr Haines said, is "often way in front of government. The key is to create respectful places for them to be heard and then to act with integrity and accountability on that wisdom."
In a week in which the news cycle was dominated by the devastating situation unfolding in Israel and Gaza and the run-up to the Voice referendum here in Australia, it was incredibly positive to see so many people — journalists, business and civic leaders, politicians, members of the diplomatic corps and the public — turn out for a conversation that aimed to step back from breaking news and political point-scoring and engage deeply with the big-picture, strategic challenges we face. Given Australia's polarised political environment and increasingly uncertain future, moving past conflict to achieve meaningful, positive change has never been more difficult — or more necessary. Senator Penny Wong and Dr Helen Haines MP exemplify the visionary, courageous and collaborative leadership that Australia needs and which the McKinnon Prize aims to promote and celebrate. It was a privilege to host them in conversation with the exceptional Patricia Karvelas and we look forward to many such successful events in future.
—-
The McKinnon Prize is Australia's independent, non-partisan award for outstanding political leadership. It recognises political leaders from all levels of government who have driven positive impact through their vision, collaboration, courage and ethical behaviour. Nominations for the 2023 McKinnon Prize in Political Leadership are open now.