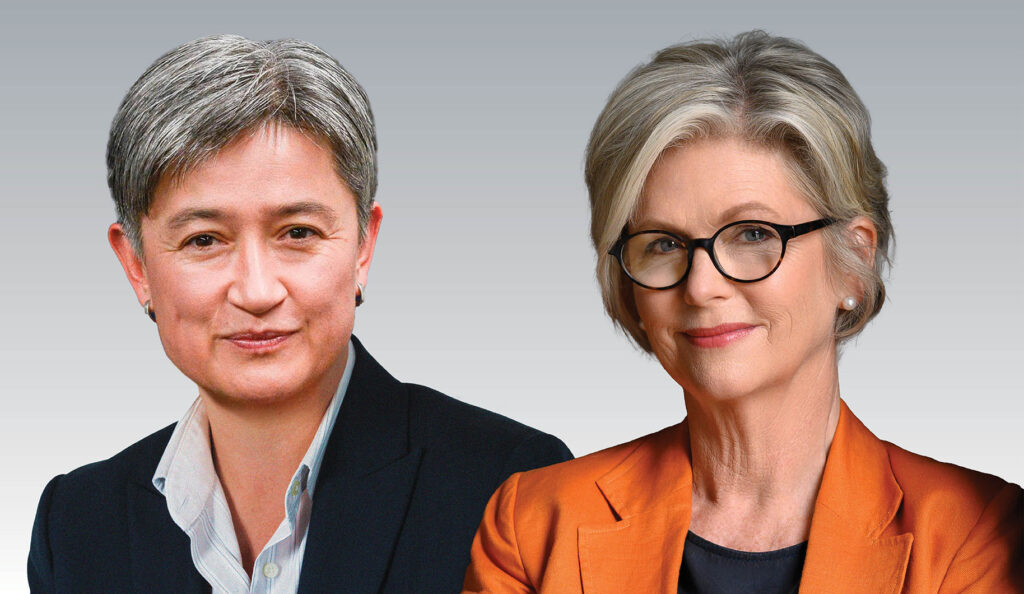 The 2022 McKinnon Prize in Political Leadership has recognised the power of sustained commitment to collaboration and relationship-building in advancing a political vision, with leaders Senator the Hon Penny Wong and Dr Helen Haines MP named recipients of the Prize.
In a year of seismic change in Australia's politics, the two recipients' dedication to achieving genuine impact in their roles stood out among exceptionally strong shortlists.
Minister for Foreign Affairs Penny Wong and Independent Federal Member for Indi Dr Helen Haines were able to navigate the electoral changes brought by voters that affected Australian politics last year, while remaining resolute in their commitment to their respective agendas.
The 2022 Prize recipients were determined by a Selection Panel of distinguished Australian leaders, with both recipients recognised for building connection, respect and trust at a local, national, and in the case of Minister Wong, global level, to deliver positive outcomes.
Minister Wong has been awarded the 2022 McKinnon Political Leader of the Year for her swift and demonstrable progress in re-setting Australia's foreign policy agenda and in working respectfully to enhance important bilateral relationships in a challenging geopolitical environment.
The Selection Panel recognised Minister Wong's strong transition from the Shadow Ministry to her role as Minister for Foreign Affairs over the course of 2022, as her "listen first, talk second" approach helped to restore Australia's diplomatic relationships – and standing as a nation – in the region.
The shift in tone of Australia's foreign policy doctrine towards strong regional engagement was exemplified by Minister Wong's efforts to make four trips to the Pacific and three trips to Southeast Asia – and the first visit by an Australian Minister to China in three years – all in the first hundred days of governance. Minister Wong said she was honoured to receive the McKinnon Prize, and to be recognised for her work as a political leader. "The Albanese Government faces the world as it is, and we seek to shape it for the better," Minister Wong said.
"As Foreign Minister this means using all elements of o ur power strategic, economic, social and diplomatic to advance our interests and values. I've placed a priority on reengaging with our region and renewing our relationships. "I thank the Susan McKinnon Foundation and the University of Melbourne for the work they do to advocate for democracy and encourage strong political leadership."
Selection Panellist and former Victorian Premier, the Hon John Brumby AO, said: "Penny Wong is a true statesperson and has consistently represented Australia's best interests through her calm yet commanding diplomacy. She is highly effective internationally and displays the values Australian's respect in their political leaders.
"Penny has shifted the tone of Australia's international dialogues and relationships for the better. She's been engaging but firm building genuine relationships in the Pacific, as well as refreshing and restarting our relationship with China and we're seeing the benefits of that now."
Dr Haines has been awarded the 2022 McKinnon Emerging Political Leader of the Year for her commitment to integrity in politics and her dedication to serving her electorate and connecting her constituency to her national policy work, as demonstrated through the Beechworth Principles and subsequent consensus building over time.
The Selection Panel recognised Dr Haines' considerable impact as a "community-driven" and collaborative leader on the national stage. Dr Haines' courageous long-term vision, commitment and ability to build consensus across the Parliament has defined the national discussion on integrity in politics over many years, culminating in the Parliament legislating a national integrity commission in 2022.
In accepting the Prize, Dr Haines expressed gratitude to her constituents for their ongoing support of her representation. "It is the honour of a lifetime to represent the people of Indi in the Federal Parliament, and it is the people of Indi who have spurred me on in my work to improve integrity, accountability and transparency in federal politics," Dr Haines said.
"The establishment of the National Anti-Corruption Commission is the most significant integrity reform at a federal level in more than 40 years and I am incredibly proud to have played a role in that, and look forward to continuing to work to improve integrity and transparency in politics.
"I also look forward to continuing working to improve healthcare in regional and rural Australia, tackling the local housing crisis and implementing action on climate change that benefits regional Australia.
"I pay tribute to the Susan McKinnon Foundation and their work to improve Australia's democracy and to all of the Prize nominees."
Member of the Selection Panel, Chancellor of Macquarie University and former senior public servant, Dr Martin Parkinson AC PSM, said: "Helen wasn't the only one to have made integrity an issue, but what was truly outstanding was the way in which she gradually built support across her community and across the broader parliamentary community.
"Politics is the art of the possible, and that's something that you can be dismissive of, but what she did was to find a way to walk a path through all the competing groups and ended up with a policy position that everybody could come in behind.
"Helen did something unusual in that she engaged her local community on the integrity principles. It showed proper grassroots democracy. She took up an issue – that for many people was probably distant – and gave them a mechanism whereby they could contribute."
Recipients of the McKinnon Prize for Political Leader of the Year and Emerging Political Leader of the Year are determined by a panel of distinguished Australians, which this year included Chair Catherine Livingstone AO FAA FTSE, Chancellor of the University of Technology Sydney, Professor Tom Calma AO, Chancellor of the University of Canberra and Kungarakan Elder, and the Hon Kelly O'Dwyer, former Cabinet Minister and member of the Australian Parliament, amongst others.
Previous recipients of the McKinnon Prize include the Hon Tony Smith MP, Mayor Teresa Harding, the Hon Greg Hunt MP, and Dr Anne Aly MP. Minister Wong is the only recipient to have been recognised twice, having been named McKinnon Political Leader of the Year in 2018.